Klever Kutter
The one that started it all! Fits great in a pocket and easy to keep anywhere you frequently cut or open things. It just simply works.
Klever Koncept
Ergonomically designed grip, innovative tape splitter and slightly wider throat make this another awesome safety cutter!
Klever XChange
Interchangeable heads, ergonomic 'soft-touch' handle, innovative tape splitter and wide throat for your most challenging cutting jobs make this a great choice.
Klever Excel
Everything you love about the Klever X-Change in a disposable format. High quality wide throat dual-blade as well as double wall versions.
Metal Detectable Klever Kutter
The food service industry requires a safety cutter with a stainless steel blade and the ability to be detected by automated equipment. This cutter delivers in spades!
Klever Holster
Keep any of our innovative Safety Cutters handy at all times. Velcro-fastened belt loop and a handy pouch to keep your replacement blades right where you need them!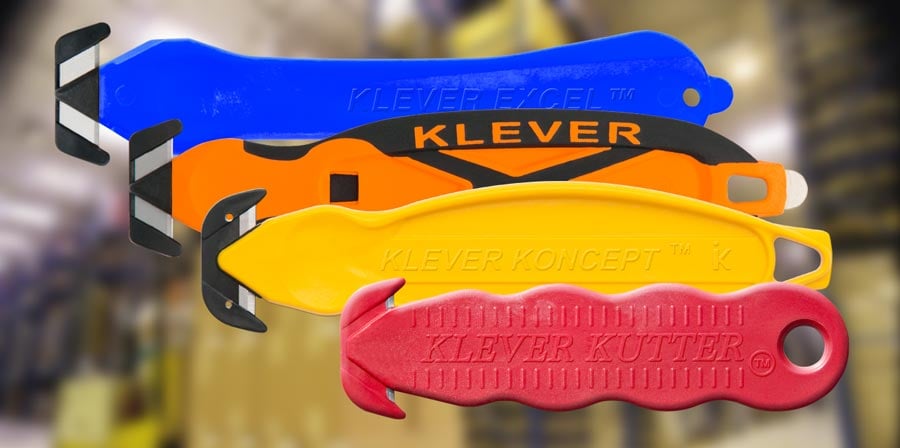 About our Cutters
Our cutters are Safe, Versatile, and Easy. They are your safest choice as a Package Opener, Cardboard Cutter, and Box Cutter etc. with the help of Klever Innovations' razor utility. Klever Innovations' safety utility knife and cutters are absolutely one of a kind. The recessed blade design helps prevent accidental contact, reducing the opportunity for personal injury, lost productivity and possible lawsuits. They are designed to be conveniently discarded or recycled after their long useful life, and with their shielded cutting area they reduce the risk of damaging merchandise while cutting packaging.