Our KS-101SS Safety Cutter features a 100% stainless steel handle, carriage and blade providing you with durable safety cutting solutions for any clean environment! Good for use in food processing, pharmaceutical, and many other industries.

Print-Friendly PDF
Part Number
KS-101SS-W
Product/Packaging Specifications
5 cutters per pack
5 packs of five per case (25 total)
1 case = 6" x 4" x 2" = 2.25 lbs = 1.02 kg
Includes cleaning and assembly instructions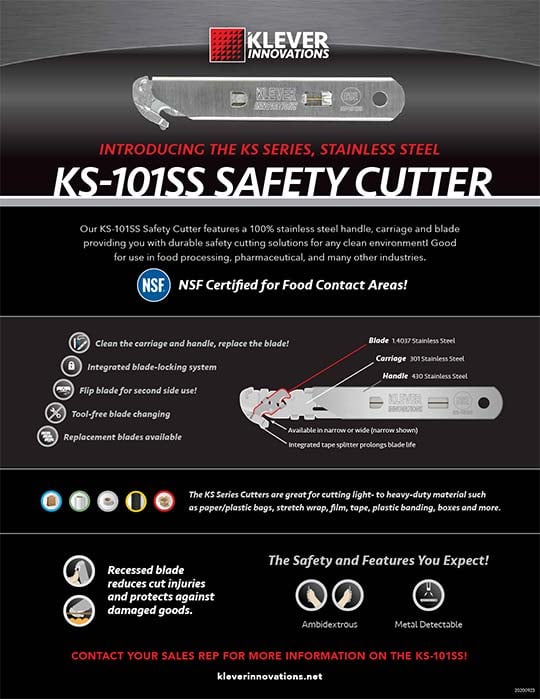 Download the KS-101SS Flyer
Features
NSF Certified for food contact areas — ideal for the food industry!
Recessed blade reduces cut injuries and damaged goods.
Cuts paper/plastic bags, stretch wrap, film, tape, boxes and more!
Durable, lightweight and easy to clean and sanitize.
Highest safety level
Ambidextrous
Metal detectable
Clean the carriage and handle, replace the blade!
Integrated blade-locking system
Flip blade for second side use!
Replacement blades available

HB-8820SS (Stainless steel replacement blades)

HB-8820 (Carbon steel replacement blades)